Craniocervical Correction Testimonials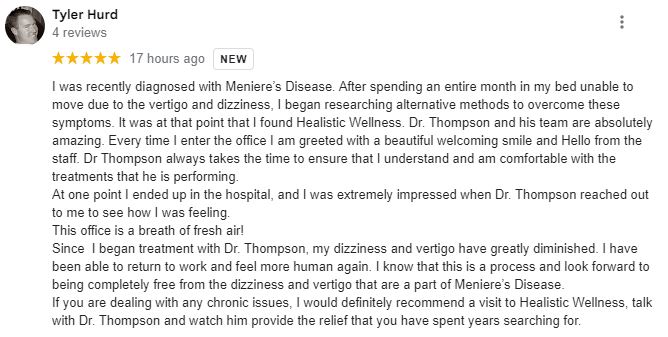 ---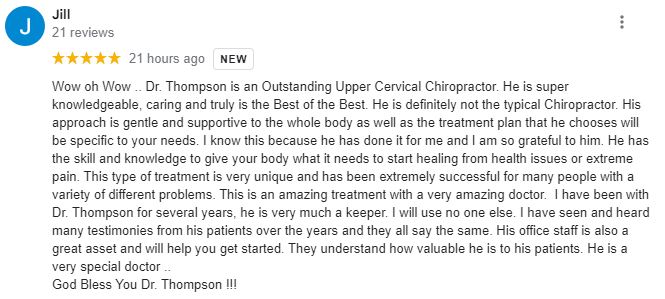 ---
"I started seeing Dr. Thompson in March of 2020 for chronic headaches and neck pain. After 4 visits, my adjustments have held (it is now 9/21) and I no longer live with the daily pain and headaches. I only have to go see him every 6 months just for maintenance. I am thankful for his help and staff."
- Dan G.
---
"I highly recommend Dr. Thompson. They truly focus on the whole person during treatment, which includes extensive education. Dr. Thompson and his staff are Servant Leaders!"
- Kristie P.
---
"Since my first few adjustments, my life has significantly changed. I could not have imagined the improvement that was to follow. For six years I suffered from chronic migraines. I tried just about every medical option possible to resolve them.
Eventually, I began to just put up with them. However, when finding out about Dr. Thompson from my physical therapist my family and I were eager to try out this new solution. After just a few adjustments my migraines disappeared and now I feel great. The weight of chronic migraines no longer holds me down as it used to every day and now I don't even have to worry it will come back.
I feel completely better now, and so much healthier than I have in years. Now I can hang out with my friends longer and participate in more vigorous activities, I can enjoy my senior year, and easily achieve high A's in advanced courses while actively fulfilling my role as an executive leader for my school newspaper. I have experienced a significant improvement which has greatly facilitated my life and has allowed me to keep up with my rigorous schedule.
One major improvement for me is that I no longer have to cope with the exhaustion that I did before and now I can complete homework or participate in things without feeling extremely tired. Socially, my mood has greatly improved, my thoughts are more coherent, and I just get to have more fun.
I definitely owe my improvement to Dr. Thompson and his welcoming staff. My life in just a matter of weeks is completely different and I have been relieved of a pain I felt daily for the past 6 years. It's absolutely strange but amazing all at the same time, that thanks to a few precise taps I have my life back and have achieved a level of relief I did not know was possible."
- Kara H.
---
"A few years ago my son started suffering from chronic headaches. I eventually took him to see a neurologist and had an MRI performed on his brain. Everything came back normal and we were told he had childhood migraines. We noticed some of the headaches were linked to not eating his meals on time, but there were other times when he got a headache for no reason at all.
These headaches would last hours and sometimes a day. We decided to see Dr. Michael Thompson at Upper Cervical Clinic of North Texas to see if some relief could be obtained. X-rays were taken and my son started getting his neck adjusted. Once adjusted, we started to see significant improvements in the headaches.
If my son does start to get headaches now, he says, "Mom, I need to see Dr. Thompson. I know I need to get adjusted." Getting adjusted has been the only thing to help with these headaches, and I am so thankful for Dr. Thompson and Upper Cervical Clinic of North Texas.
Dr. Thompson truly has a passion for wanting people well, and that has always been prominent in his practice. I am someone that was very skeptical of chiropractors in the past, but would not trust my children with any other chiropractor than Dr. Thompson."
- Ruth L.
---
"Dr. Thompson and his staff are amazing. I went to Dr. Thompson because I was having headaches and vertigo. The headaches were so bad they caused light and hearing sensitivity along with nausea.
Vertigo would come along with them and varied in severity. I was having these episodes as often as once or twice a week. After being treated by Dr. Thompson I'm down to one episode a month, sometimes once every couple months. It has been a welcome relief, keep up the good work Doc."
- J.W.
---
"I had migraines for 50+ years of my life. About 15 a month, with some lasting days! Years ago I went to one of the top headache specialists in the world, who was involved in developing the current medications used today for migraines.
Dr. Mike addressed the underlying problem instead of medicating my headaches! I have been 6 months without a migraine! I have my life back because of Dr. Mike!"
- Penny M.
---
"Following a post in a Burning Mouth Syndrome (BMS) Facebook group, I realized that my BMS might have been caused by a head and neck injury. A woman in the BMS group had seen an upper cervical chiropractor, so I looked for one in N. TX. I found Dr. Thompson and made an appointment.
He said he could help me but it would take a considerable amount of time and a number of treatments because I had BMS for 14 years. After having seen every kind of doctor from the dentist to a cranial Osteopath (in Canada) to acupuncturist to qi gong healer, I finally found the one who could help me.
After Dr. Thompson's treatments, I am 90+ percent better. My burning is a 1 or maybe a 2 if it occurs all. Previously it was a 10 without medication, and after a while, medications don't work.
When I began seeing Dr. Thompson I was taking a combo of Tramadol, Cymbalta, and Clonazepam. I now take a maximum of 1 mg. Clonazepam per day, breaking it up as needed."
- Carol A.
---
"I have had issues needing Chiropractic care since I was 12 years old. I have seen 4 other Chiropractors until I met Dr. Thompson at UCCNT.
First of all, Dr. Thompson's professional manner is how patient care should look. He took the time to properly evaluate my condition, and then explained how he was going to treat me, and how this would be different from the other types of chiropractic treatment I have previously received.
I was amazed at the results of his treatment. Upper Cervical Chiropractic is the pinnacle of chiropractic treatment in my experience. I was suffering from repeat symptoms of sprained ankles, knee pain, and constant issues with my neck and spine going out of adjustment. After my course of treatment, it is now very rare (2-3 times a year) that I would need an adjustment.
Needless to say, I highly recommend Dr. Thompson for his professionalism and his excellent patient care."
- Nate S.
---
"My name is Chris Austin and I am currently 14 years old, going into the 8th grade. I came to Dr. Thompson when I was starting the 6th grade. I suffered from Epilepsy, which caused Petit Mal seizures. I had been on different medications to control the seizures since I was 6 years old.
We believe that the Epilepsy was caused by my hitting a wall with my head after jumping on a bed with my brother. We are not sure. Nothing was working completely as I would break through the medications and have more seizures.
After coming to Dr. Thompson, we slowly eased off the medication and as soon as I was completely off the medication the neurologists believed that I would never need the medication again. I believe that was true based on Dr. Thompson's work on my neck.
I noticed a great difference in how I felt after my neck became stable. I felt more energetic and felt I could do things that I could never do before. I thank Dr. Thompson for all he has done for me in allowing me to live a "normal" life as a kid should."
- Chris A.
---
"I have been coming to see Dr. Thompson since the early part of January 2012. My diagnosis has been Trigeminal Neuralgia. I have seen numerous doctors over the past fifteen years, still, my pain continued to increase, and so did the medications I was taking.
Within five to six months of treatment, I finally experienced pain relief. Not to say I don't still have pain now and again, but as I write this my medicines have been cut in half and I have not experienced any pain for two months in a row.
I am grateful for the treatment and pain relief Dr. Thompson has provided to me. Thank you!"
- Deb W.
---
"As a 93-year-old patient of this clinic for over 50 years now, I am writing to express my sincerest thanks and appreciation for the level of care my wife and I have always received from chiropractic care.
After suffering a near-fatal automobile accident in 1945 resulting in severe head and neck injuries and exhausting all other forms of medical solutions at the time, in 1951 I began my first therapy with this clinic. Suffering from a pinched nerve, I received an adjustment which alleviated and began my recovery of pain on the very first visit.
My wife, Juanita, had also been a chiropractic patient here for Degenerative Arthritis of the spine. She entered chiropractic care walking bent over in half after several back surgeries and years of pain. She also received regular adjustments which had her standing straight and back to living, and continued to be active until the age of 90.
Dr. Thompson continues the traditions and impeccable care at this clinic and is an asset to the medical community, and I would like to express my sincerest thanks for his enthusiastic care and continuous concern for his patients and their health. I continue to believe today that chiropractic care is essential to living a healthier and longer life.
I continue to see Dr. Thompson today as needed to ensure my quality of life."
- Norris B.
---
"Since my last visit I have spoken to my Mom and she told me you almost didn't take me as a new patient. I want to tell you to thank you from the bottom of my heart for not turning me away. If you had I wouldn't go anywhere else and would just go on in pain, as I have for so long.
I had come years ago to talk to Dr. Pruitt and she laughed and told me no and sent me on my way before even letting met get two sentences in. I left that day crying and crushed.
After my first correction from you, that evening I felt like I had the flu. That following day I don't know how to explain it, but I felt feeling run down my neck into my shoulders and like it released pressure. You know I have been going day by day as my life has been in a fog, now I feel like the fog is lifting and I am able to live like I want to. I know this will be an on-going thing with my back, but I plan to stick with it.
I have high pain tolerance, but even for me, it was getting to be too much. I will be forever grateful for you not turning me away. Also, you are the first doctor to ever call and check up on me. That is rare in this time and day.
Thank you for being the kind of doctor you are. I know you have to make a living, but I am glad you been put on this earth to care about all us folks that walk into your life. Thank you again."
- Sheila D.
---
"Our names are Steve and Laura Austin. We are the parents of Chris Austin. Our son was diagnosed with Epilepsy when he was in kindergarten. Over years of testing to find out the type of Epilepsy he had, as well as various medications to control the seizures, our family was becoming increasingly frustrated with "modern" medicine.
Doctors prescribed medications, but Chris would suffer breakthrough seizures after a few months. We were finally able to determine that he suffered from Petit Mal through an EEG test. Once that occurred the medications prescribed began to control the seizures.
However, we were fairly sure that his Epilepsy began after a hard hit on the head that we felt had also jarred his neck. We simply felt that our son did not need to continue on medications that could cause him major complications later in life. Through our prayers and seeking God for answers, the cervical procedures that Dr. Thompson provides were introduced to us.
I can attest to the procedure giving Chris relief after the first day. Chris had previously had trouble in school due to his seizures. He had fallen behind in one particular area, spelling; he had really struggled. Our weekly study for spelling tests was frustrating, to say the least. The night that he had his first adjustment, he was able to respond quicker and retain better the words that we were studying that evening. I was a true believer that night.
After a few months of adjustments, his neck held beautifully. He is not only off of his medication and completely clear of seizures, but he is also able to focus and has much more energy than in previous years. He came to Dr. Thompson when he was in the 6th grade. He is now entering 8th grade.
There are simply not enough words in the English language to express how grateful we are for Dr. Thompson and the service that he provides.
On a side note, his office staff is amazing and he has a great attitude, and he takes time with patients. We often recommend Dr. Thompson to our friends and family."
- Steve and Laura A.
OFFICE HOURS
---
Monday
9:00am - 12:00pm
2:00pm - 6:00pm
---
Tuesday
Closed
---
Wednesday
9:00am - 12:00pm
2:00pm - 6:00pm
---
Thursday
9:00am - 12:00pm

---
Friday
By Appointment
---
Saturday
By Appointment